Activities for Stellenbosch, South Africa
All students attending Stellenbosch University have access to immersion activities, which differ between semester and summer programs. See below for more details.
Semester
Sports
Students can pay to join the Stellenbosch University Sport Performance Institute (SUSPI), a world class gymnasium that caters to both students and high-performance athletes. SUSPI boasts 3 weight training areas; a dedicated high-performance area; a circuit; a cycling studio; saunas; a heated, indoor swimming pool; and 6 aerobic halls that host more than 90 aerobic classes per week.
There are also 29 official sports clubs at Stellenbosch University that international students can join for a fee, ranging from badminton, to chess, to fencing, surfing, and more.
Clubs and Student Organizations
USAC students can join the International Student Organization Stellenbosch (ISOS) for a nominal fee, which covers transportation costs to club organized events during the semester. Past events have included mountain climbing excursions, theatre visits, summer concerts, and trips to tourist destinations like Robben Island and other locations in and around Stellenbosch and Cape Town. If an outing involves a ticket for entry, the student covers this entry fee for themself.
Students may also pay to join other student organizations and societies on campus. These organizations and clubs generally fall under one of five categories:
Social Impact
Cultural, Hobby, and Sport
Religious and Spiritual
Academics
Nationality and Political
Explore all Stellenbosch University student organizations.
Matie Buddy
International students can sign up for the Matie Buddy program, a peer-based experience that pairs you with a more experienced Stellenbosch student who can help you adjust to life in South Africa. Your Matie Buddy can show you how to navigate the city, where to shop, how to find the hot spots—all the things you need to know to feel like a local! Information on how to register for a Matie Buddy will be available from your Program Advisor after acceptance to the Stellenbosch program.
Volunteer Opportunities
International students have the opportunity to participate in the Voluntarism and Community Engagement (VCE) program. VCE enables students to work with communities around Stellenbosch, with efforts primarily focused on positive and supportive interactions with local youth. Participation in the program requires a mandatory training workshop followed by practical work. This program is managed by Stellenbosch University, and more information will be available at the on-site orientation.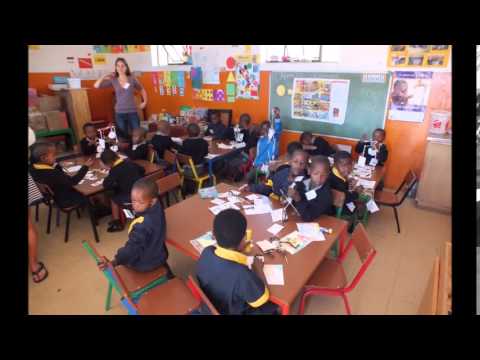 Voluntarism and Community Engagement (VCE) program
Summer
In addition to engaging with local and other international students during your courses, Stellenbosch University has also designed a social and immersion program intended to help you connect with your peers and introduce you to the cultural diversity of Stellenbosch and the Western Cape.
Evening Activities
Film screenings, traditional South African barbecues (braais), karaoke, "sokkie" dances, dinner parties, and more are organized by Stellenbosch University staff, and are a great way to connect with your fellow classmates and maybe even some locals during your time abroad.
Field Trips
Field trips are designed to support the academic components of this program, and as such many courses offer hands-on, experiential learning trips to relevant businesses, community groups, or locations of historic and cultural importance (such as Robben Island, Table Mountain, or Cape Point). In addition, all students can participate in an included weekend away, where you will experience the diversity and beauty of South Africa's Western Cape.
Optional Tour
Students have the option to participate in a 6-day Garden Route Safari for an additional fee. Information about this tour is provided during on-site orientation. Highlights of this trip include:
A visit to a wildlife sanctuary (home to some of the world's most endangered animals) and multiple national parks;
Up-close experiences with African wildlife, including elephants and ostriches;
A tour of the Cango Caves, an illuminated wonderland of colorful ancient stalactites;
Several days on the coast, where you can surf, shop, hike, whale watch, canoe through a lagoon, and visit a shipwreck.
Quick Details
2024-25 Application Cycle
Summer 2024: Open

June-July deadline: March 15

Fall 2024: Open

Semester 2 (Jul-Dec 2024) deadline: March 1

Spring 2025: Open

Semester 1 (Jan-Jun 2025) deadline: Sept 1
Eligibility
Minimum GPA: 2.8
Minimum class standing: Sophomore
Program Type
Credit
Overseas
Program Capacity
Summer: 20 students
Semester: 15 students
Instruction
English
Passport & Visa